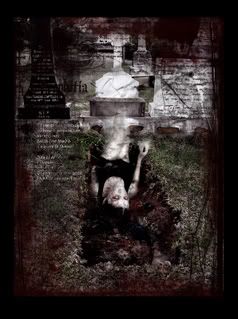 Last evening I killed a man, I watched as the ost poison entered his blood, I watched the startled expression on his face as his heart stopped for the effects of ost poison are nearly immediate. His fingers curled inward, his legs cramped and he drew himself into a fetal position and then he was gone. It was... interesting. I sat there for over an ahn and I was shaken, I could not move, I could barely breath. I had taken a life and it was on purpose. I lifted from the chair I was in, I walked to the lavatory and I wretched until there was nothing left to wretch.

Grunk found me there, he comforted me, he thought it was an accident. He carried me to my couch, he placed a cool cloth to my forehead and he brought me a cup of tea. I could not even drink it. I never imagined I would react this way to the end of a mortal life, it happens every day and usually it is unexpected. But, I was the maestro, this was my own personal hellish symphony and I had written the last note. I cannot go back into the room, I do not wish to look at him, to see the mask of agony that was his final expression. I had planned to ask him questions, like how are you feeling, where does it hurt, are you afraid. But, I could not as there just was not time.

Grunk and I will get rid of the body this morning, I will have him place it in the back of the wagon and we will take it in the direction of Tor and when we are far from where prying eyes can witness my misdeed, we will burn it. I do not dare bury it, for the toxins in it may get into the ground water and it might make people ill. It is odd how I care if it makes people ill. I did not care for the poor fighting slave, but then again he was just a slave. Perhaps, that is why my guilt and remorse are already waning. I wonder what it would feel like to take the life of a freeman. I am sure the rush would be far greater.