Vertical
Date: Mar 8th, 2009 4:28:33 am - Subscribe
Mood: acrophobia


My desire of comitting xtreme activity always intensely persuasive to me..

waktu kat KMB i have tried paint ball game and hell yes!! it was awesome!!
but, the expenses for the game pretty much expensive...n after dat u will spend 1 month makan maggi ..wondering when next MARA elaun will come out..

namun begitu..bak kata ekonomi lesson..every
luxury goods have it own subtitute goods..

So i try and go to wall climbing..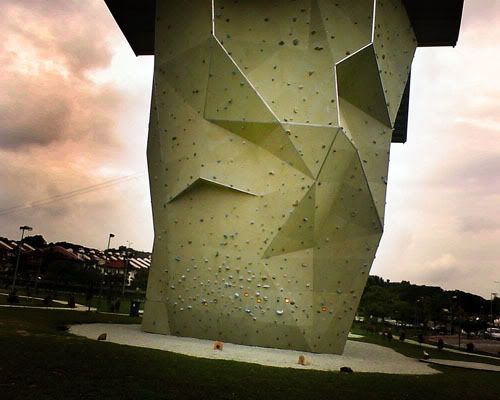 Murah ke? in Extereme sports Shah Alam ..the fee teramatlah berbaloi for me...
there a lots of packages yg u all boleh pilih...
package for begginers pon ade and it cost only RM 10 for one session including instructor..

so aku bersama Fazren yg kebosanan di kala weekend ni pon pergilah try our guts there..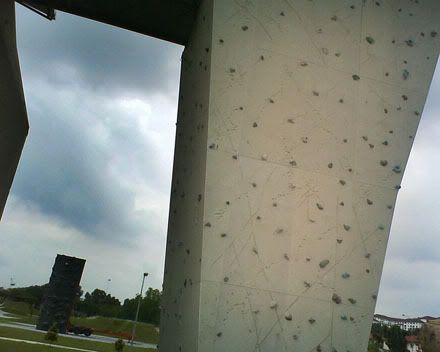 As soon kitorang sampai kat wall tu......punyelah tinggi ...tgk jauh nmpk kecik..haha..
and suddenly tetiba Fazren membuat pengakuan,
" actually aku acrophobia"
namun dah terlambat sebab kami dah pon pakai safety belt ( harness ) n the instructor dah pon panggil kitorang..( actually aku pon tgh gigil gak..haha)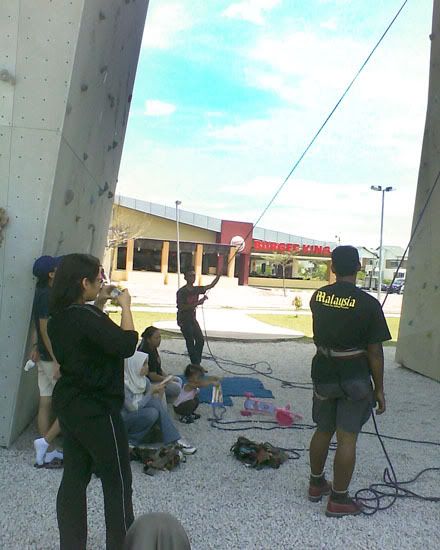 sampai je kat site tu...ade r skit2 taklimat diorang kasi...

" it takes us out of our normal horizontal
world & into vertical environment"
- instructor aku x ingat nama sape

Maka ape namanya aktiviti kalo x wat praktikal...so straight terus kena panjat...
the instructor then choose sape yg nak rasmikan panjat and tetiba die choose Fazren..
HAHA punye la takut gayat mamat tu.. boleh plak jadi first yg panjat,,kesian aku tgk..
tapi perasaan kesian aku x lama sebab aku dipilih menjadi kedua.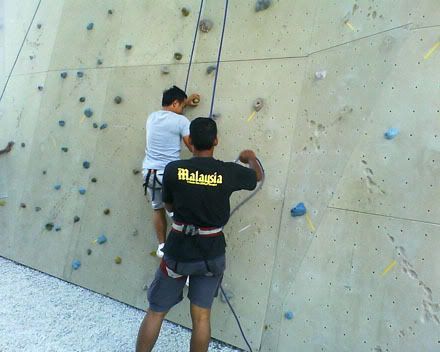 "encik instructor..encik instructor, ape kata saya je pegang tali ni..encik je yang panjat kat atas"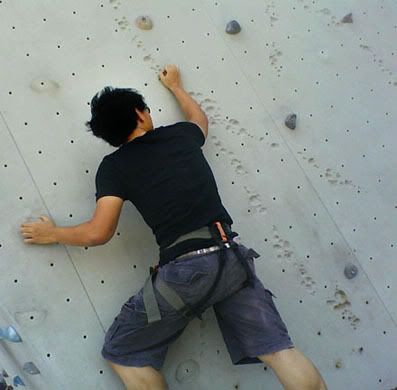 seriusly mmg agak memenatkan dan consume ur stamina byk giler...coz u have to use total upper limb and lower limb muscle korang tuk make sure korang stay... at the same time kena fokus which step yg betul..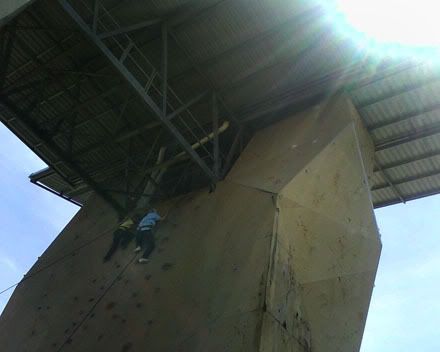 but i tell u...mmg worth giler when u managed reach on top...really give u self satisfaction bile berjaya...
even ur takut kat ketinggian feeling pon overpowered by ur perasaan puas bile dapat sampai...

after dat kitorang pon bantai r panjat dinding tu..even fazren yg takut ketinggian itu juga semakin confident..dan mampu memanjat seperti seekor cicak man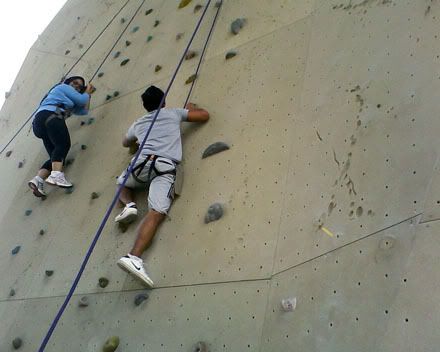 Aksi hero yang baru je graduat panjat dinding tadi menyelamatkan gadis yg tersangkut..

" si gadis manis..jangan khuatir..abang di sini selamatkan kamu"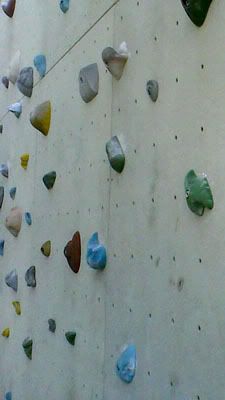 from the instructor said..baru je aku tau ape gunanya colour -colour kat hole ni..
aku ingat dulu hiasan2 semata rupanya ade kegunaan penting..
colour ni cam guidance for climber which route depa nak pilih..but, once u awal2 panjat pilih let say kaler grey...so along the climbing sampai abih kena stick amik grey kaler punye hole..x leh pijak or step colour lain..tu r rules die..

Jadi mmg penting r korang untuk pilih warna ape yang sesuai dan nampak mudah tuk dipanjat..xder r stuck kat tengah2 nnt..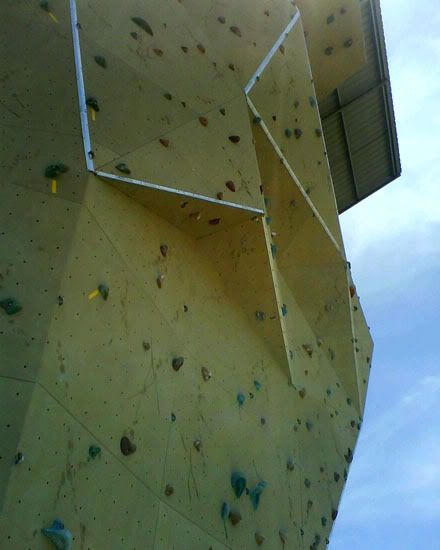 but for mostly yg tul2 exreme people..depa ni lagi suka route yg challenging...kalo boleh yang nmpk mustahil lagi diorang nak wat..tgk je wall ni..( wall ni tuk yg advance) siap ade zig zag r..aku pon x tau r camana nak panjat..

overall..aku mmg agak satisfy gile kat this wall climbing activity...its really teach u to overcome ur fear and test ur confidence and skill..selamat x?
no worries..mmg selamat gile coz their safety equipment always daily check setiap masa..plus ade at least ade 2 instructor yg jaga korang every session..

So ape lagi..go and try this for urselves..
CIOW!




Comments: (1)
---
Comments:
Anonymous guest
, why not
register
, or
login
now.