Sunday the 20th vs Dunman Allstars @ Eastview Sec, 9am.
The TL Times
Nov 12th, 2007 6:17:53 am - Subscribe


And so TLFC resume their season after the winter break was over... 4 games into the season, and TLFC has notched up 2 wins out of 4 games... This is rather an embarrasing start for such a high-profile team and manager rafa capello has a lot to answer too at the moment...

Now on to the recent game at tampines pitch 1... TLFC gave a warm welcome to newcomer team East Horizon with a 1-0 win... The match could have definitely went either way but TLFC just did enough to secure the win with maestro Nas scoring from outside the box.... ah fark ah the rest mus go and post...





Comments: (0)
---
Aidilfitri Wishes From TLFC U-10 Boys' Team
Oct 1st, 2007 4:15:00 pm - Subscribe


Hello, I'm Samuel Papaya, Assistant Public Relations Officer at the TLFC HQ, and I'm here at the TLFC training ground.

In two weeks, Muslims the world over celebrate Eid Ul-Fitr, to mark one month of fasting and abstinence. TLFC wishes to extend its warmest Aidilfitri wishes to its Muslim players, fans and staff.

This fasting month has seen the TLFC senior team temporarily withdraw from the league commitments in view of the fast.

Today, we visit the Under-10 Boys' team to hear their thoughts on the upcoming celebration.

Tommy Sa'adiah, midfielder for the junior team, quipped, "They fast so they won't be slow! HAHAHAHAHA I am ten let me make stupid jokes like this."

When asked about what he looks forward to during hari raya, goalkeeper Kirpal Tan, said, "I look forward to staying at home with my family. I'm very scared to be at the training ground. Aizat (senior player Aizat Amali) is always watching us train. Then he like to smile at us and use his tongue to lick his lips. I think he fell in love with us."

Sweeper Farid Samad, 6, was more positive. "YAYY! During Hari Raya I get more money! I think first day of raya already I get more money than what the senior players are paid. YAYY YAYY YAYYY!!!!"

There you have it from the junior team. To everyone out there, Selamat Hari Raya. Or more like, Selamat 2-Weeks Before Hari Raya.


Comments: (0)
---
The TL Times
Sep 3rd, 2007 10:37:00 pm - Subscribe


TLFC could have asked for a better start in their season opener against rivals Kawabanga FC. 2 goals in the second half by Kawabanga forwards seal TL fate after an exciting first half which ended 2-2.

TL got off to a great start early on in the game with midfielder Aizat scoring from outside the box. One might wonder whether the treatment he is getting from his chili sauce addiction during the season break has manage to transform him into the player he is now. Kawabanga equalise from an indirect freekick conceded in the penalty box. But TL striker Didil silenced the critics with a goal after that. Yet again Kawabange equalise from a freekick with goalkeeper Nazir caught napping in his post.

If the first half was exciting, wait till you hear about the second half. It was boring. The difference in the squad depth was in fact the only reason why Kawabanga managed to score 2 more goals. Tlfc had no substitutes but Kawabange had 8 Subs. The TL defence were constantly outrunned by the Kawabanga forwards who were constantly changing. The tired TL players were constantly pumping the ball up and hoping for the best. A few times they manage to play beautiful soccer but were let down by finishing.

The only good thing worth mentioning after the game is the performance of new signings Azhari and Faizal. They put in a decent game with Azhari connecting well with Aizat and Darryl throughout the game. Faizal was effective in his position as left mid simply because he came down to defend.

TLFC next game will be at Sembawang Sec this Sun at 9am. And many of their fans are hoping for nothing less than a win against cellar dwellers, Campaign FC. Till then TLFC OUH OUH OUH!!! -Fox In The Box


Comments: (0)
---
To Next Season
Aug 5th, 2007 1:00:40 am - Subscribe


The end has come.

And we beckon the next rebirth.

On the road to become champions,

We glorify soccer.

And in that, we glorify ourselves.

The flash has spoken.

TLFC Forever!


Comments: (0)
---
All You T'Hellos Get Off The Bus Lyrics
Jun 24th, 2007 8:01:15 am - Subscribe


All You T'Hellos Get Off The Bus
Nas Tha Gangsta
TL Records

(Nas)
I got on the bus
I wanted to go home
When a girl got on the bus
I looked at her
She wasn't hello
What the fuck man?

Her dressing was not hello
Her face was even worse
Why should I read The Game
When there are these types of girls

So the girl was on the bus
She was not the bomb
I looked at the rest of the bus
There were no hellos
Why was I even on the bus
What the fuck man?

(Chorus)
So I yelled out,
"All You T'Hellos Get Off The Bus!
All You T'Hellos Get Off The Bus!
All You T'Hellos Get Off The Bus!"
Yo, all you t'hellos really should get off the bus

(Nas)
Like my friend Suff says
If you're not even hello
Why the hell are you even alive?
He's quite right really
The most you'll be
Is a blind man's wife

If you can't afford plastic surgery
Then you're really screwed
Get off the bus, you t'hello
You're spoiling my mood

(Chorus)
So I yelled out,
"All You T'Hellos Get Off The Bus!
All You T'Hellos Get Off The Bus!
All You T'Hellos Get Off The Bus!"
Yo, all you t'hellos really should get off the bus


Comments: (0)
---
Ken Deeman's Report
Jun 24th, 2007 7:45:14 am - Subscribe
Satay of the day: Goh Chok Tong

Good morning I am Ken Deeman reporting from Sembawang Secondary School where we saw TLFC overcome Meirda Football Club 5-2 in an action-packed match.

Here with me is TLFC Director Of Football Jamal "The Postman" Suparman.

Good morning, Mr. Jamal.
Good morning.

So, 5-2 is a rather good scoreline isn't it?
Yes it is. Who won 5-2?

Your team, sir. TLFC.
Oh we did?

Yes. 5-2! Nas even scored audaciously from long range. The goal suggests that Nas is developing into a more complete player.Your thoughts on this?
Who's Nas?


Comments: (0)
---
Club Anthems
Jun 13th, 2007 11:00:05 am - Subscribe


Hello I am Preenkafkafmulumulugerbil-Nyoh, Public Relations Officer of the TLFC fanclub. The season is gearing up for an exciting climax and we at the fan club wish the team all the best in their push for a respectable league standing.

As a new but rapidly-developing football club, we at the TLFC fan club believe the time is right for the club to have its very own club anthems and supporter chants.

We got our best songwriters and came up with a few chants that we will teach the fans on our next matchday. Before that, however, we require the approval of The Gaffer and the playing team. It would be useless to start singing a song that would not spur the team on, wouldn't it? Oh, all the woulds.

So here are the songs, just waiting to reverberate in our magnificent playing ground. All they need now is permission to do so.

The TLFC Anthem

Let me tell you about TLFC

We have solid stuff with
Irwan Iskandar as keeper
Faliq may stink
But he's one strong defender

Russell's so commanding
You'll feel safe with him around
Jon is The Hummer, he wants to
Run all the other teams to the ground

Denzyl's not around
But Fahmy does the job well
Ben's just as stable
I don't think he likes to play Freecell

If the other team has the ball,
Nas had it not long ago
Aizat passes the ball
Like CM3's Tonton Zola Moukoko

Syah is our answer to Ronaldinho
Suff wants to pee on Jose Mourinho
Both of them are born on the same day
They both make us happy...and gay

Mus is forever offside, even in bed
Aloy runs down the right
Darryl's goals are exquisitely-made
Marcus in the team is such a rare sight

And all of us make....
TLFC!!!!!!!!!!!

TLFC Forever!

When you take the bus
And you swear and cuss
Because everything around you is stuuuu-piiid
Then come on over for a TLFC game
Come to Regent Sec
We won't be there even for a sec
Because knowing our luuuuck
The match will be postponed

Oh-whoa-whoa!
TLFC Forever!
Are we orange and black?
Is that what we wear?
Or white and black?
What do we care?
TLFC Forever! TLFC Forever!

TLFC (sung to the tune of Monster by The Automatic)

Knowing our luck tonight we'll lose
Tonight we'll lose, tonight we'll lose
We're so used to it we won't give boos
Won't give boos, won't give boos

The other team is full of eight-year-olds
Eight-year-olds, eight-year-olds
They'll dribble circles around 20-year-olds
Twenty-year-olds, twenty-year-olds

What's that losing seventeen-nil
Is it The Losers?
Is it The Losers?
What's that losing seventeen-nil
Is it The Losers?
Is it The Losers?
What's that losing seventeen-nil?


The TLFC Cheer! (to the tune of If You Happy And You Know It, Clap Your Hand)

If the ball's in the air, then Russell will head it (Head! Head!) (X2)
If the ball's in the air, don't you expect Nas to care,
If the ball's in the air, then Russell will head it (Head! Head!)

If Jon is out then we are screwed (Screwed! Screwed!) (X2)
If Jon is out, there's nothing much to talk about,
If Jon is out then we are screwed (Screwed! Screwed!)

If Irwan's not keeper we have Nazir (Oh shit!) (X2)
If Irwan's not keeper, and Sam can't play either,
If Irwan's not keeper we have Nazir (Oh shit!)

If there are ciggys, there's Syah, Daniel and Darryl (Smoke! Smoke!) (X2)
If there are ciggys left to smoke, they will smoke until they choke,
If there are ciggys, there's Syah, Daniel and Darryl (Smoke! Smoke!)

If Mus is offside, then that's old news (Old news!) (X2)
If Mus is offside, at least he scores when he gets it right
If Mus is offside then that's old news (Old news!)

Do provide feedback on these hard-laboured-for songs. We at the fan club will be waiting eagerly.

Cheerios.

Namaste!


Comments: (1)
---
Fans' Questions
Apr 29th, 2007 10:50:03 pm - Subscribe
Satay of the day: Rowan Atkinson

Salutations TLFC. Suriyat Lee here with my monthly report from the TLFC HQ.

April has come to an end and the word from the board of directors is that the on-pitch performance can definitely be improved. They were especially distraught at seeing the club concede a 5-1 loss to Kampong Boyz FC earlier this month. Director Of Football Preenkafkafmulumulugerbil-Nyoh was quoted, "I have seen better football in Suffian Hakim's cooking."

Financial matters in the club, thankfully, is steadily improving. The next report will be released at the end of this quarter, in June, but we have reported significant profits from the clubhouse and the concept store for the month of April.

Staying on this note, we have received a marked increase in fan mail over the month. Some of these fans write in to congratulate us on our progress in the AFL. Some have written in to berate our less inspired on-pitch performances. Some are business letters from business-involved fans; inviting the team for events promotion, but we have forwarded those letters to our publicity people here at the HQ.

Now, most of these fan letters have questions which we were thinking of passing on to our publicity department. But in view of the not-too-hectic schedule of the senior team in recent days, we have decided to allow the playing team to answer some of the fans' burning questions.

Gaffer and Captain, I shall leave these questions in your charge.

For The Team

Why don't you all play a 3-1-6 formation? I believe with your attacking prowess, you might as well focus more of your players to the pursuit of goals.
-Drew,21,Bukit Batok

Ever thought of changing your jersey colours to purple and pink? It's like, so hoooottt!!
Kumar,37,Geylang

Why do so many of your players have short hair? LONG HAIIIIRRR!!!!!!!
Paul,18,Ang Mo Kio

With TLFC's stable financial status, why do you not invest in a few more players who add flair, and attacking options to the team. Eric Djemba-Djemba And Djimi Traore are good examples of fantastic players within TLFC's budget.
Fred,61,Batu Pahat


Comments: (1)
---
TLFC vs Campaign.
Apr 15th, 2007 7:44:20 am - Subscribe
Satay of the day: Monique

Guys, I have a confession to make. Sorry for the deliberate left footer 1 v 1 miss and the block on Aizat's attempted goal. It could've been 4-1. But I was paid well.

P.S.: Jon we're kindred.


Comments: (0)
---
The TL Times
Apr 10th, 2007 11:38:48 pm - Subscribe


New Signing To Beef Up AFL Squad

In a mad scramble to meet yesterdays midnight transfer deadline of the AFL, The Gaffer has managed to secure the services of Isnan from MMFC (Merepek Meraban Football Club). Isnan who is highly rated by TLFC scouts was reportedly happy to put pen to paper on a TLFC contract. He said in his media unveiling today, " It has been a childhood dream of mine to don the whites of TLFC. I grew up watching TLFC play and to be able to be a part of them is like a dream come true". Isnan is set to make his debut this Sunday against Campaign Football Club at Canberra Secondary. The staff here at TL Times wish him all the best.

On to other news, TLFC have been facing an injury crisis of sorts. With 5 players out injured, last Sunday saw only 12 players turn up for the AFL game. The lack of foresight from the Gaffer is appalling considering he is an experienced coach. Earlier in the season, when questioned about the small squad size by reporters, The Gaffer replied that he believes that 16 people will be sufficient to mount a serious title challenge. The lack of depth in the squad become apparent last Sunday when TLFC were hammered 5-1 by league leaders Kampong Boyz. Hours after the game, the Gaffers villa in Jamaica was reportedly attacked by die-hard TLFC Jamaican fans. They were reportedly unhappy with the Gaffer managerial ineptitude to foresee problems and lack of tactical knowledge. If the Gaffer can take full credit for his win against Kawabanga then he should take full responsibility for this embarrassing result. -Fox


Comments: (0)
---
The TL Times
Apr 3rd, 2007 11:37:28 pm - Subscribe


TLFC Player outraged over media attention

In a party held over the last weekend at the Gaffer's holiday villa in Jamaica, Syah Fidzuan "Magician", a TLFC player vented his anger on the media attention currently circling Suffian "Flash" Hakim.

The injury-prone Syah, who was recently diagnosed with ACLMS (Anterior Cruciate Ligament Morning Syndrome), let his feelings be known to the Gaffer. Our inside source told us that Syah was apparently unhappy with how the media plays up Suffian as the star of the team. He demanded that the Gaffer talk to the media and make them write an exclusive article for him. This blatant potrayal of jealousy from Syah towards his teammate didnt go down well with the Gaffer. But since Syah was a TLFC youth academy alumnus, the Gaffer let him off with a stern warning and a fine of 17 weeks wages.

Lets just hope that Syah can let bygones be bygones and work together with Suffian in this Sunday AFL game against the Kampong Boyz. Provided he doesnt do his favourite magician move, "The Disappearing Act". -Fox


Comments: (0)
---
TLFC Budget (March '07)
Apr 2nd, 2007 11:36:41 am - Subscribe


Hello people!

It's me, Suriyat Lee and this is the TLFC accounts for the month of March 2007, for your personal reference(s). It's been thoroughly checked and double-checked for discrepancies, and thus the error margin has been kept to the bare minimum of 0.01%.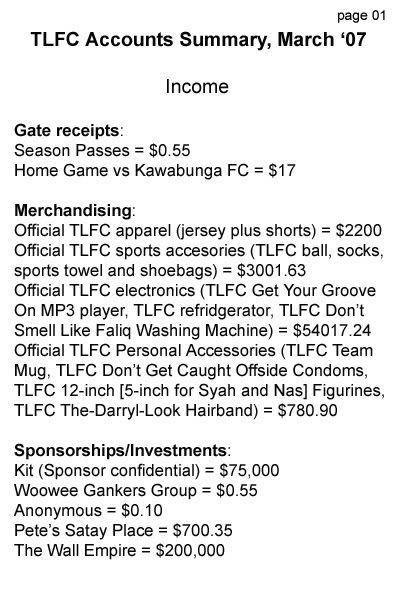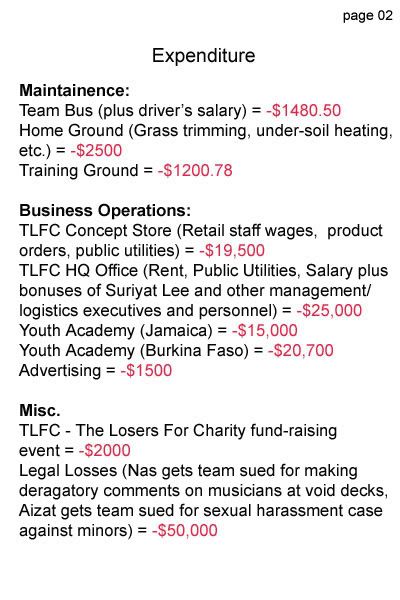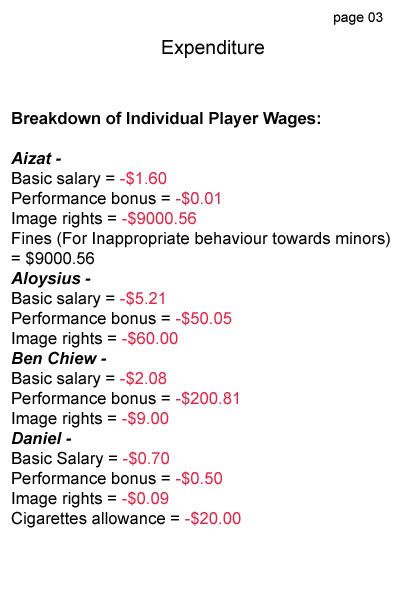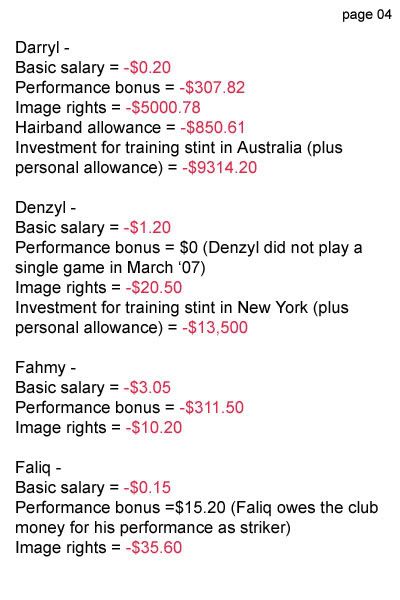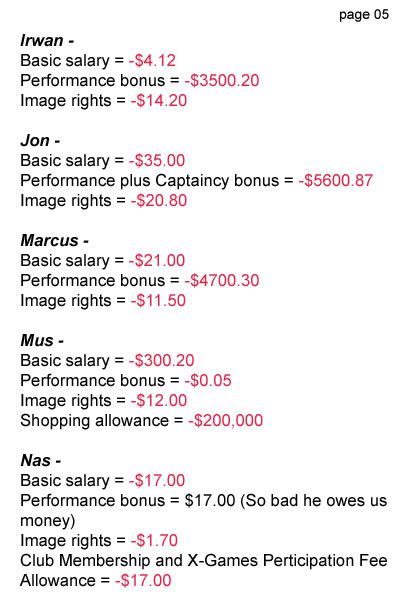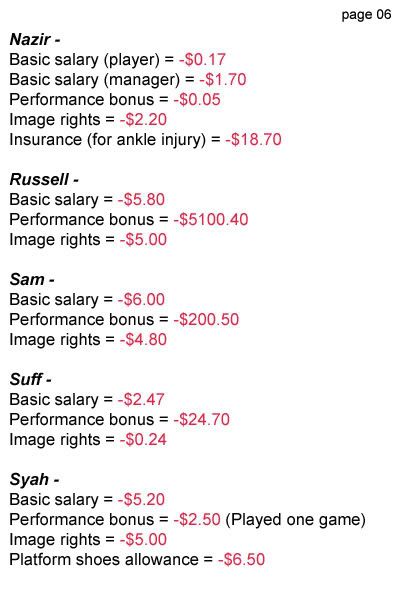 As you can see, TLFC is currently making losses but this is mainly due to the performance bonuses of players who have played exquisitely well such as Captain Jonathan Tan and defender Russell Pereira. We will be offsetting this soon with planned stadium expansion, which would generate far greater gate receipts.

On behalf of the TLFC office staff, we wish all you players out there good luck and a fantastic season ahead.

For any further enquiries, you can contact me at HQ Office.


Comments: (0)
---
Press Release: Suffian Hakim Pledges To 'Fight On' With TLFC
Mar 30th, 2007 11:49:59 am - Subscribe


In a press statement released earlier today, TLFC winger Suffian Hakim pledged his future to the AFL team.

"In light of the recent controversies about my status here in TLFC," Hakim said in a press conference, "I wish to declare whole-heartedly that I am committed to fulfilling my duties as a player of The Losers Football Club, to the best of my ability, until my contract ends. We may not be top of the league now, but I promise to fight on with my fellow Losers until we don't live up to our name."

The player was recently the subject of frantic transfer market inquiries after his match-winning performance against Kawabunga FC.

His agent, Ms. Fiona Xie confirmed this. "My client and I have been talking to a lot of parties from Spain, Italy and England this past week," she said at the conference. "But we've both agreed that to fully bring out his potential as a footballer, he should stay with TLFC in the AFL Division 2."

"Besides," Hakim added, "I do believe that we have a fantastic team of professionals plying their trade in TLFC. I can seriously compare -one for one - the players of TLFC to those of the England national squad.

"Jon is our Wayne Rooney - strong, aggressive, never knowing the meaning of a lost cause. Marcus is our Owen Hargreaves. He's got tremendous energy, and the work ethic of a Chinese man under a Communist government. And he's so efficient in breaking up attacks and then threatening our opposition with marauding passes. Syah is Joe Cole - in one word, magic. Not to forget Russell - our very own Rio Ferdinand without the stupid hair and bad drugs-test memory. So intelligent in carrying the ball and so calm and solid in defence. Even Nas is like Frank Lampard - he does not contribute to the team.

"I would not be the player I am today without these guys."

His thoughts on Sunday's game against Dunman All Stars? "We'll show them the respect we show anybody who plays this beautiful game. But with this current cast of stars in TLFC, I do believe we have a chance at 3 points."


Comments: (1)
---
The Gaffer Times
Mar 27th, 2007 10:38:34 pm - Subscribe


Its me again, your beloved Gaffer.I would like to welcome you all back from your overseas trip. I do hope players like Nas didn't overdo it at any clubs. We all know how he is with the ladies and the fights he gets into with the guys.

Anyway I know its been said many times but i just want to congratulate you guys again for the fantastic comeback victory you achieved for the last game. I know I know, it was all due to my tactical brilliance but you guys deserve credit too. You all make me look good.

Ok for this week's agenda: the game against Dunman All Stars. Our win against Kawabanga will count for nought if we don't do well this game. We shouldn't just expect to win this game cos we won Kawabanga. Remember the game against Marine Devils? I really hope we don't repeat such a disastrous performance. WE have to keep up the pressure and make the big boys uncomfortable. I've been approached by many clubs this past week asking if players like Darryl and Russell were available. To protect them from this, i've decided to send both of them to our Feeder Club, TKFC. Russell will be gone for the rest of the season to continue to hone his defensive abilities while Darryl will be there for a two week stint. But both will be available this week.

Another player highly sought after by other clubs is Suff. His performance for the last game was comparable to that of Nistelrooy,world class finishing. I do hope he decides to stay with us.
As for me, the newspaper has been writing a lot of stuff, about me going to replace Old Fergie, Jose, Stevie and god knows who. Don't worry. I've signed a contract till June the 10th and I plan to stay committed to this club.

So for Sunday, I want you all to know that your starting place is not guranteed. Syah willbe back from injury and is gearing to start. The suspension on Irwan has also been lifted. So we'll be at full strength this Sunday.

My captain,Jon and I hope that TLFC remains focused on our primary goal, to do our best and to win the league. If we continue playing games like our last, that sure won't be a problem.

So for now,take care.

Yours truly
Gaffer



Comments: (0)
---
TL Magazine's Exclusive Interview With Suffian 'The Flash' Hakim
Mar 19th, 2007 8:59:41 am - Subscribe



Yesterday's game against Kawabunga FC was a highly emotional night for TLFC fans the world over. They panicked as Ezekiel's delectable lob beat debutant goalie Sam. They prayed to the depths of their spirituality as the score read 1-0 against TLFC at the half-time whistle. They laughed in tremendous relief as skipper Jon The Hummer scored the convulated but overall-effective equalizer. They feared the worst when Kawabunga's right midfielder, Siva, (who ironically was once on-loan to TLFC) scored midway through the second half to make it 2-1 to Kawabunga.

But by the end of the game, their hearts were soaring. Two goals by attacker Suffian Hakim made it a memorable 3-2 victory for the TLFC fans.

In the post-match conference, TLFC manager The Gaffer declared, "Suff scored two goals, but I won the game for us." It was perhaps boastful to most neutrals but the fact of the matter was this: The changes he made over the half-time team talk had produced some vibrant attacking displays by The Losers. It was managerial genius at its best.

While some might think it was a case of an unsung hero crying out for his song, we interviewed the un-unsung hero earlier today about his thoughts on yesterday's match, and life as a player in TLFC.

Hello Mr. Suffian Hakim. I'm Carmen Vanwomen, reporting for TL Magazine.
Good morning. You can call me Suff.

Would you like to share with us your thoughts and feelings about the game?
I thought it was a very good, open game. Fantastic for soccer purists out there. We have close ties with Kawabunga, so beating them is indeed a bittersweet feeling. It's funny how we're close friends as a team with Kawabunga, but we play so differently, you know? Look at Liverpool and Sheffield United. They're friends as teams, and the way they play is so similar. But for us and Kawabunga, it's different. Part of me wishes it ended up as a draw.

So two goals - an equalizer and a winner. Your feelings on them?
It's a fantastic feeling, for now. I know it will pass. Two goals come and go. Three points are more permanent.

But undoubtedly, these two goals have made you an instant celebrity...
Perhaps, but the team is already full of celebrities. Zat (TLFC midfielder Aizat Amali) is already a big celebrity with his rogue-ish good looks and his tremendous fashion sense. We have very gorgeous ladies stalking our training grounds just to catch a glimpse of Zat, asking him to marry them. Nazir's already a star in China, we all know that. Mus is a spokesperson for the UFANI (United Front Against Non-Indies). I think the media attention I may get for these two goals is nothing compared to the frenzy these individuals have been through.

I can tell that TLFC is not just another soccer team full of just soccer players. You mentioned Mustakjm van Haasnje's role as a spokesperson for the UFANI. What other projects are the other players involved in?
Nazir's currently promoting his debut album in China. It's very good music - you should check it out. It has a very edgy, hip-hop-ish feel to it. Aizat is a model for Topman. He is also endorsing brands such as Billabong, Gatsby and Veluu Superglue. Darryl is endorsing Down Under Barbers. They're from Down Under, and they only do their barbering for 'down under', if you know what I mean. Nas is with Nazir promoting his album - we may be doing individual projects but our team spirit and camaraderie lives on. Nas has a track on the cd titled 'All You T'hellos Get Off The Bus'. Syah does gay porn. Faliq is a student in a school for people with special needs.

How about you?
No I'm not interested in doing gay porn.

I meant, is there anything you would like to get into?
Your pants, baby.


Oh my...
Haha that was a Nas moment. Okay seriously...

Oh, you weren't serious... (damn it)
I'm sorry babe. You're very shagadelic but I only have three loves right now: Soccer and counting. TLFC is my life.

Are you aware of The Gaffer's comments that your two goals were secondary to his tactical and managerial talents?
Yes I am. I am very much aware.

What can you comment about that?
I can't really. There has to be a reason why a man needs to declare his abilities like that. Maybe it's the recent probe by the CPIB into corruption allegations against him. Maybe he wants to prove that his ankle is not connected to his brain, that his ankle injury does not affect his ability to win games. Maybe he just feels jealous because my new agent, Miss Fiona Xie, intimidates him and he wants to put me - her client - in my place. I really can't tell. What I can tell, is that those declarations were not misplaced. Nor were they made in folly.

So the TLFC camp is not in turmoil?
Camp? What camp? We're going camping?

I mean the team. Is it in turmoil?
Definitely not.

One last question.
Oh you're going already?

Not really. I'm just ending the interview.
So that means I can buy you a post-interview drink?

Haha I don't mind.
Fantastic. So, what's the question?

What are your plans for the future, in respect to TLFC?
I plan to win the league, that's for sure. Then I'm going to give you another exclusive interview. And if you like, an exclusive visit to my place. We'll see.

Sounds good.
Now for that drink...


Comments: (8)
---
Versus Kawabunga
Mar 18th, 2007 8:54:55 am - Subscribe



Good evening, this is The Shadow reporting from the TLTV Sports Centre on what was thought as an amazing last minute comeback by TLFC against Kawabunga FC earlier this morning at Clementi.

Jon The Hummer and Suff The Flash scored 1 and 2 each as TLFC surged to a comeback victory.

Yet the victory came at a price for the hosts, who were already missing many men like Syah and Irwan due to uh, injury and suspension, as leftback Nazir the Destroyer was destroyed with a quite serious looking ankle injury.

The game was only 10 minutes old when TLFC took a downturn as he hobbled off the pitch in agony after his left ankle failed under a kick/challenge from his own self.

Nazir could put no weight on his leg as he wasn't helped to the touchline and the word swiftly came out that he could not continue.

If there is any comfort for TLFC, it is that they are not facing anyone next week because, with many injuries and suspensions, they would be in trouble.

Having already suffered a loss last last week at the hands of Marine Devils, TLFC was keen not to repeat the same mistakes this week.

Yet, after a quite flimsy defence and goalkeeping error, TLFC was temporarily stunned by a um stungun fired by a player from Kawabunga whose name I'm not very sure of currently.

The opener came from an innocuous beginning as one of them won a header close to halfway.

Mr We're-Not-Sure-Who was onto the loose ball in a Jiffy, darted speedily to the penalty box by the left flank, then cut in and released a deceptive shot which looked like sommat between a cross and a lob. Which apparently was a goal.

For a while it seemed TLFC would be silenced in a manner seldom seen since it was formed seven years ago.

But as halftime came and went and a few major changes were made to TLFC, with Jon The Hummer playing upfront and Mus The Shadow playing right wing, (but in fact nowhere at all come to think of it) the game took a turn.

After a dizzying dribble by Jon going around in circles and back and forth and godknowswhat, the capacity crowd of less than 20 people held their breath as Jon unleashed a wobbling diagonal gounder which thankfully ended up in the goal.

From that point on it was a drastic improvement exercise for TLFC with The Gaffer feeling sufficiently comfortable about his side's position to remove top strike Mus (which was actually doing nothing) long before the end.

Sam's save did not prevent Siva getting his own name on the scoresheet for the I'm-not-sure-how-manyeth-time this season.

Despite being 1 goal down and desperately needing a win, TLFC was soon celebrating after setting Suff The Flash free with a mistake from the opposition goalie which allowed the TLFC forward to lob the ball into goal.

It was almost as if the opposition defence was fearful of Suff (which I'm quite sure wasn't the case) that they dare not go near him, offering the Flash a suicidal amount of space to run into every time he got the ball.

It paid off in the 90th plus minute, with Suff scoring a superb goal involving 3 touches: from Nas the Maestro's cross connected by Jon's head outside the penalty box which landed beautifully in Suff's path near the right penalty edge and the rest is as they say, history.

The Gaffer hails 'terrific' result

The Losers manager The Gaffer paid tribute to his side after a classic comeback 3-2 victory over Kawabunga at Clementi.

"It was due to my tactical genius that I was able to outwit Abinesh Ferguson and his men," The Gaffer told TLTV.

"I'm very pleased. It is a terrific result for us against a Kawabunga team which is a very good team and TLFC are back to their winning ways,

"I think I'm good enough to manage in the EPL."

Suffian Hakim was once again instrumental in much of what TLFC did - a contribution which did not go unnoticed by The Gaffer.

"Suff scored two goals but I won the game for us"

But we all know who's having judgement problems here. Even opposition Sivakumar was suportive in his remarks

"Suff did nothing la, only 2 touches and he scored the equalizer and the winning goal. He's like Mustakjm" rousing laughter from both sides, although I'm not very sure what's so funny about that.

This is The Shadow, attempting to report it Soccernet style from TLTV Sports Center at The Wall Empire. Good night.


Comments: (4)
---
Injury Crisis Hits TLFC
Mar 11th, 2007 11:20:46 pm - Subscribe


Guys, its me, the Gaffer. I'm back after being cleared of all charges. It was a rough time for me and it must have been bad for most of you, wondering if I would ever be released but I'm back so we can put that all behind us.

Now for the important bit. All of us were dissapointed, angry, even shocked at our performance in our last game. We hit a new low. Although we had vast possession, chances were few in between. Our attacking play was not so much stifled by our opponents but more by ourselves.

To make matters even worse, players like Marcus, Jon and Nazir are injured while our defensive lynchpin Ben, custodian Irwan and in-house rugger Fahmy are suspended for our next game. What do we do guys? We are facing one of the leagues strongest teams, Kawabanga, and it could not come at such an inoppurtune time.

Do we go in that game with our heads down? Do we go in knowing that defeat is inevitable? I say no! We are TLFC. We stand for more than that! We have to go in with guns ablazing and with adrenaline pumping.

Guys, its time to show what we can do. As such, I've recalled players like Mus and Sam back from loan to aid us in our time of crisis. Players like Nas, Aizat and Darryl have to put in that extra bit of work in midfield and to lead our attack. We need Suff's workrate to soar, Faliq's presence to defend us, Russel's voice to stir us, Syah's magic to save us. We need Ahloy to whip in those crosses and Dan to coolly slot the ball in. Not forgetting, our top striker Mus, to rediscover his scoring instinct and for Sam, with all his altheticism, to stop them from coming in.

So guys, this Sunday's game will be a test of our mettle. Whatever happens, as long as we know we've done our best, even in defeat there'll be no shame. If we do conjure up a win, I won't be surprised as well. So i end off here with these words.

"TLFC, who are we?" "OUH! OUH! OUH!"


Comments: (2)
---
Compulsory Training
Mar 7th, 2007 12:16:37 am - Subscribe


I have heard some dressing room rumours going around about this Saturday training is a stunt pulled by the management. I assure you that this is not the case. Right now i need you guys to put in the comments whether or not you will be able to attend this session. The meeting time and place will be at Yew Tee MRT Control station at 5pm. Maestro has pulled some strings and gotten us a team bus. I need your answer as soon as possible as i have learned that some members of the team are going to sacrifice certain commitments just to attend this session. Strictly no WAGS will be allowed during our training session as i want a 101% focus during training.

On a happier note, CPIB has already decided to go on ahead with the charges with The Gaffer. i know how much you guys hate him as such i have told the police that we will testify against the Gaffer.

This Sundays game against Marine Devils has also been shifted to Turf City Pitch#3. Do take note of the location change.


Comments: (0)
---
Training
Mar 5th, 2007 10:48:16 pm - Subscribe


I am very sure you guys have been reading the papers lately about our manager, The Gaffer being involve in a match-fixing scandal. As such the board has decided to remove The Gaffer from the managerial position temporarily. He will return once he has been cleared of all charges. In the meantime, the board has elected me to be the caretaker manager.
Please take note of the training that we will be having this Saturday at 5pm. The location is tentatively at Limbang Field due to the fact that our home ground is undergoing a field replanting. Only those that have been excused by our physio is allowed to skip training. Any absentees will be fined and suspended for the next game.





Comments: (0)
---
HELLOO!
Mar 3rd, 2007 9:26:59 am - Subscribe


Why hello again! It is I, your webmaster and apparent shadow-offside-topscorer striker back again with up to speed updates regarding our site. *superstar smiley* In my semi-absence I see this blog has become such a humble, friendly, condusive and productive place for TLFC members to discuss tactics and voice out relevant opinions to better the team. Fans/readers will be so pleased at the image we are portraying and I have none other than "The Gaffer" and some of you kiampa act-cool cmi commenters to thank :) I'm glad this blog has served its purpose as a place where you can vent your frustrations for not being able to enter ACSI because of either being too stupid or too poor or both. It's such a webmaster's dream.

ANYWAYS, as I was saying, I have added a new feature to the site to fuel TLFC's ego-hungry monsters. Behold, on your right, the new "TOPSCORERS" list complete with neon-like glow! So now you can track down who's been scoring how many and gloat about it to claim your right to play where :D Do tell if any of you want custom lists such as "Best Second Assister" (the person who assisted the assistor) and such, I'll be glad to comply. Wow, aren't we cool; we cater to everyone! As always and of everything else, I will be diligently updating and upkeeping the site to make it better. Due to some unfortunate satays, I should think I will be there tomorrow to hopefully witness another victory secured by TLFC. May many goals come our ways, and never forgetting satays. This is your beloved webmaster signing off

- Mus
xxx


Comments: (0)
---