Yes!
Date: Apr 8th, 2009 10:33:05 am - Subscribe
Mood: fantastic


I've been busy. No clue where to begin.

Today is day 103, woot me!

I was praying today in chapel at SU and just talking with Him about how sexually frustrated I am. I felt Him telling me to strive for Him even more. I only have a little bit more time before she enters my life, and when that happens, my spiritual life will not be my own. When I start dating someone, it's going to be completely based on Christ, and I feel like our spiritual lives will merge. He told me to enjoy where I am now. The privacy of my spiritual life. Also, I'm not going to have to search for her. He's bringing her to me on a sliver platter. Hell yeah, I'll have to work for it, but... I won't have trouble figuring out who.

I also posted this as a FaceBook note:
----------------------------------------------------------------------------------------------------------------


Burn The Church
Share
Wednesday, March 25, 2009 at 2:57pm
Hear me out before you stone me.

Television is a freaking god in America. People use it for everything, especially as information source. They watch the news and political shows and base their political beliefs on what they see rather than getting up off their lazy asses and doing their own research. Read? Who wants to read when I can just sit there and watch information be fed to me?

The problem is that TV is a tool controlled by other humans. Other humans decide what to broadcast and what to hide. Because of this, they can make the TV say virtually almost anything they want, giving a heavy, but often unnoticeable slant to any information broadcasted. They can choose to broadcast the good parts or bad parts of the Iraq war. They decide whether or not there were WMDs. They create their own reality based on a few seconds of film footage and a cheap script, and a huge amount of people accept anything the news says, no questions asked. They don't want to put out the effort to do their own research.

There are so many similarities between TV and The Church. Many people I know go to The Church on sundays and are spoon fed their faith, then spend little or no time in the Bible the rest of the week. They're too busy during the week to do their own reading, so they go to The Church once or twice a week to catch up. Unfortunately, The Church is also a man-made system, a human organization prone to error. There is no deity in The Church. And much like TV, The Church can twist the Bible to make it say anything they want.

I was reading through 1 Corinthians a couple nights ago...
"Everything is permissible, but not everything is beneficial." Ever heard that before? I've heard people quote that passage and use it against swearing, drinking, smoking, gaging ears and piercings. Later on in that chapter, it talks about how the body is a temple of the Holy Spirit, which is another verse that is used against smoking, drinking, tattoos, etc. But every verse in between and after those two verses is about sexual immorality. It says nothing about drugs or tattoos.

One huge problem I have with The Church is that, rather than basing their beliefs upon the Bible, it often develops its own morals based upon a mix of cultural rules and ultraconservative traditions, then looks to the Bible to defend its views. It's so backwards.

Here's what I'm talking about: According to (much of) The Church, it's a sin to drink alcohol. Forget moderation, any consumption of ethanol is sin (tradition). Gluttony on the other hand, isn't even talked about, and obesity is completely acceptable. Forget the fact that the risk of heart disease is multiplied tenfold along with a multitude of other health problems, it's culturally unacceptable to talk about weight publicly, so it's avoided (culture). On the other hand, using, or even purchasing any tobacco products is a terrible sin partly for the health reasons, and partly for the possibility of addiction (tradition). Caffeine however, is also quite addictive when not used in moderation, and a huge amount of churchgoers are completely addicted to coffee. And it's completely acceptable in The Church (culture).

Homosexuality is another subject that frustrates me in The Church. While part of The Church completely accepts the active homosexual lifestyle (which is complete horse shit if you've read 1Cor 6), the majority completely condemns any homosexuality and will have nothing to do with those who practice it. Homosexuals are completely cast out of the church. At the same time, sex outside of marriage is looked down upon by The Church, but often tolerated (especially of older unmarried adults). It's all sexual sin. Where is the consistency?

Another thing that frustrates me is that The Church's whole focus seems to be on where you're going when you die. "You need to believe that Jesus died for your sins and be a good Christian or else you will go to Hell. And you'd better stay good because you never know when you'll get hit by a truck!" This whole going to Hell theory is based upon a three word phrase in Revelation: lake of fire. Have you ever read Revelation? It's that weird ass book full of symbolism and metaphors, which are wide open to different interpretations. Personally, I believe that going to Hell is something that The Church blows way out of proportion.

For me, my faith isn't about avoiding hell and getting to heaven. My faith is about living a fulfilling life and serving Christ. It's not about saying a magic phrase and spending two hours a week in a special building for the rest of my life so I can get "saved" from hell. There's so much more to it than that. It's about loving people. Loving God. Learning about forgiveness, grace, power, justice, and peace. Heaven and Hell aren't even on my radar. I have no clue where I'm going when I die. I'm not worried about it either. Once you realize what life really is supposed to be about, heaven and hell kind of fade in comparison.

I went to The Church for like 15 years of my life. I stopped going because I got bored. I didn't enjoy it. That right there should be a red flag. If you're not enjoying your faith, there's obviously something wrong with it. For me, the idea of rejecting The Church scared the crap out of me at first. I mean part of me almost feels like I switched religions or something since my life now is so radically different than 5 years ago. It's easy to follow the crowd along with these cultural and traditional rules. Breaking out of that a couple months ago was super scary at first, but I'll never go back.

I feel like my faith was completely wiped out and I have go back to day 1. Everything I knew about God and the Bible was filtered to me by The Church. Reading the Bible without that filter is like reading a whole new book. My body as a temple doesn't necessarily mean avoiding anything I don't like. Divorce isn't an option (don't even get me started about divorce in The Church). I'm not supposed to tolerate sin amongst brothers, even if it's culturally acceptable. Pressing on towards the goal takes on a whole new meaning.

So that's about it. My own personal 95 thesis. The Church is a sham. A ludicrous, hypocritical sham.

Jenna Curato likes this.

Amy Saito at 6:48am March 26
So much of what you say reflects what I have seen in the church as well. Any time you get a group of people together, there is going to be inconsistencies, failures, mistakes and just really stupid stuff. The American churches need to STOP taking verses out of context. Part of it, as you pointed out, is due to our culture. We like everything bite sized, including our theology.
Without critical thinkers in the church, however, what will happen to the church? do you think that as people who see the disparity between church and the Bible leave, the state of the church worsens?
 
Cory De Silva at 8:27am March 26
so. what you should do Chad is found a really strong relationship with God yourself---just you and him. It sounds like you're doing that. Once you've got a great, powerful relationship, then you need to surround yourself with powerful Christians who will raise you up, keep you accountable, and strengthen you in the lord. I agree with much of your thesis: especially the obesity, and the drugs thing as well as some of your church stuff but at the same time, a man can't do it alone. I don't care how strong you are in the Lord. You have to be around strong Christians who are doing the real thing. Otherwise you will fall away. I've seen it time and time again. "Where two or more are gathered..." there the Spirit of the Lord is (I forget the verse). You should at least be part of an on fire home group for Christ if you're not going to go to Church that meets every week. Another thing that Church can do is keep you updated at what God's doing in the world around us. Be connected in some way.

Chad at 12:05pm March 26
Cory: I think the verse you're looking for is in 1 Corinthians 5. The entire chapter is about expelling the immoral people in The Church who claim to follow Christ (swindlers, sexually immoral, idolaters, etc). The Spirit of the Lord is present, giving them power to throw hypocrites - people who continue to live in sin regardless of the teachings of the Bible - out of the church. Although I don't think this verse is in the correct context, I do agree with you fully that believers getting together is vital to the survival of each person who follows Christ.
 
Chad at 12:20pm March 26
Amy: As far as what will happen to The Church? I think it needs to be completely torn down and restructured. As far as church politics go, I'm not a complete anarchist, but I am an antifederalist - that is, I don't think one man should have too much power. I don't think a bunch of believers getting together to listen to one man interpret the Bible for them is what Christ had in mind when he established The Church. Bible studies are excellent ways people can connect to God on their own time, then come together with other believers and discuss what they read and how to apply it to life. Bible studies encourage STUDYING the Bible. From my experience, Church sermons spoon feed you what the pastor wants.

I think it'd be great if people came together on Sundays in worship, but then broke off into consistent small groups afterwards and studied the Bible. The entire congregation would be encouraged to study the Bible throughout the week, and contribute on Sundays...
 
Chad at 12:21pm March 26
The relationships developed within the small groups would be so much deeper than the "turn to your right and to your left and greet the people next to you" philosophy that many Churches have adopted. Accountability partners could actually be found. Going to Church would be a learning, interactive experience, rather than sitting there and listening to some guy talk for 40 minutes. Did you know that in college after 30 minutes of lecture, the student brain is paying attention to less than 50% of the lecture? Instead of the focus of the entire congregation being on one man (who, all in all, is only human and just as prone to fail as any of us), the entire focus would turn to the Bible. The Word of God instead of the words of man.
 
Amy Saito at 12:47pm March 26
dude that's genius. I love that idea. all of those ideas.
 
Cory De Silva at 2:42pm March 26
i don't know what the verse is. Maybe that's the one. I like your ideas, however dark and cynical they may be.
 
Megan Flores at 10:04pm April 5
I really like this,Chad...although you already told me what it says before I read it

I agree with pretty much everything you've said, and I'm happy to know that I'm not the only one who's been questioning the church as it now stands.

Read Hebrews 10:19-25 (the one I was trying to find early this morning, lol). These verses, for me, are the reason I don't agree with the church, but can't abandon the idea of church. Verses 19-23 talk about God being the one and only way. Jesus made the final sacrifice, so that the priests who used to offer sacrifices are no longer necessary. Jesus has become our one and only "High Priest" over the House of God. As Christians, we draw near to Him. Verse 23 says "Let us hold fast the profession of our faith without wavering;(for He is faithful that promised).." The way that church-goers go into a church and listen to their pastor and then depart to continue putting other things above God in their lives, is what I'd consider "wavering".
 
Megan Flores at 10:28pm April 5
I don't believe that God has called us to perfection, but He HAS called us into a deeper relationship with Him, as individuals, not depending on other Christians, or on a pastor, or on a program, or sermons. His Word is continually pointing us to our need for a direct, and open, and unwavering hunger for God. Meeting every sunday has become so ritualistic for sooo many "Christians" that it is comparable to the sacrifices that were made routinely before Christ made the ultimate sacrifice, wiping out our need for the sacrifice of animals.( Hebrews 10)
Verses 24-25 talk about our need for fellowship with other Christians, something that we're told not to "abandon". To me, I can't give up the IDEA of church because of the way we're told to meet together, to motivate and encourage one another. Looking at today's church though, it's become about other things, and so my idea of church remains just that...an idea.
[You: "I think it needs to be completely torn down and restructured.]
I agree.
----------------------------------------------------------------------

It caused a bit of drama with my family, but I meant every word of it, and I'll never turn back.

I burned all my stuff that had to do with Dana. It wasn't much... a sickeningly sweet
thank you note for taking her out for her birthday, the stocking, and candy. It wasn't a bitter feeling or anything. It was burning my ship to Tarshish. I swore that night that I'd never turn my back on Christ again. It was freaking awesome.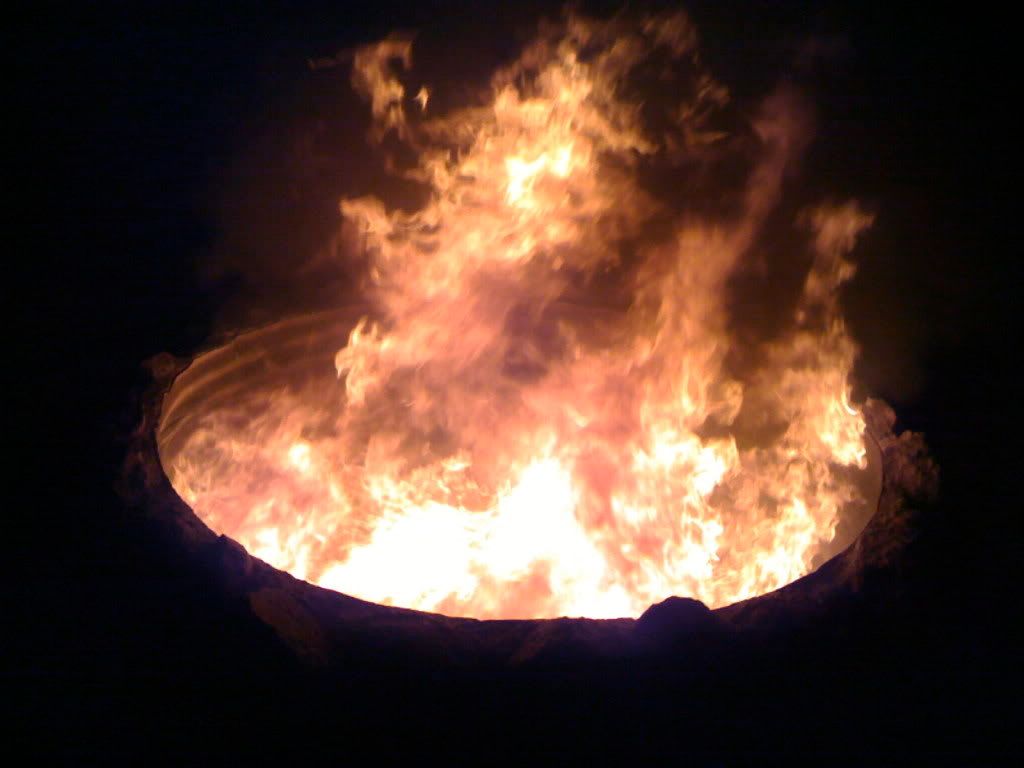 Lately God's been telling me to respect authority, which has been rough. I wanted to go drink with a couple friends, but I'm not 21. I'm going to Simpson next semester, so I'll have to give up my cloves. Mostly just a bunch of small rules that I don't like following. But I'm working on it.

So that's where I'm at now. I'm happy. Very happy.
Comments: (0)
---
Comments:
Anonymous guest
, why not
register
, or
login
now.